Sauces come in all kinds of consistency, volume, and heats. In North Carolina, we are inundated with Texas Pete because it is manufactured right here in Winston-Salem NC. You can buy a liter for $1.50!!! Hot ingredients range from red bell peppers all the way up to habenero peppers. Here is a short list of my particular favorite hot sauces.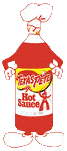 Texas Pete

Texas Pete is made right here in Winston-Salem NC and is the cheapest sauce you can get in the area. It's hot enough to get your attention but not too hot to overwhelm your taste buds. I put it on fries and burgers every chance I get.

INGREDIENTS: Red peppers, vinegar, salt, xanthum gum.


---

Durkee Hot Sauce

Durkee Hot Sauce was sold to Tone Brothers Inc. but the company of Durkee was started by Eugene Durkee in 1850. The Hot Sauce is great for wings but not so spicy that you can't eat it.


---

Frank's Original RedHot Sauce

Frank's Original RedHot Sauce is one of the best sauces I've ever tried. It's made from a unique variety of cayenne peppers that really is spicy without being too hot. It looks like Frank's may be owned by French's Foods (you know, the mustard people).

INGREDIENTS: Aged cayenne red peppers, vinegar, salt and garlic.


---

Tabasco

Tabasco is probably the most famous hot sauce on the planet. McIlhenney's has been making this liquid fire since 1868.

INGREDIENTS: Vinegar, peppers, salt.


---

more to come ...
---
to Tim's Original Page-O-Stuff
Last Modified: Thursday, 24-Jan-2008 08:05:35 EST
<!script src="http://count.exitexchange.com/js/1119542" language="JavaScript1.1" type="text/javascript">